Stop paving over my generation!
This is my response to the Ministry of Transport of Ontario's Environmental Assessment report, to be delivered to the Guelph Community Developlent and Environmental Services (CDES) committee this morning.
Members of council,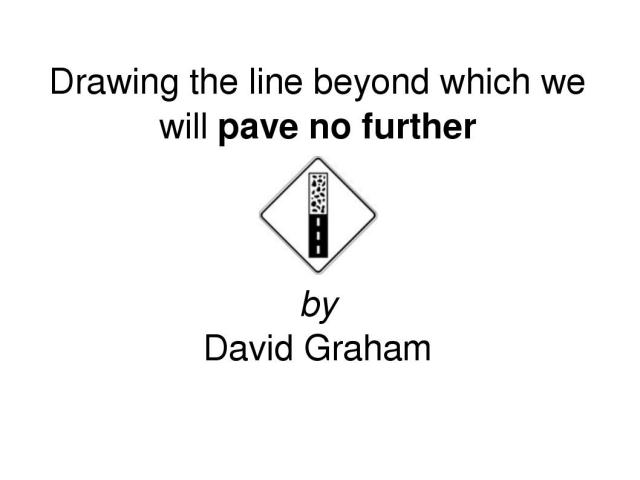 I ask that you symbolically decline to receive the MTO's Environmental Assessment on this highway project. The 50 million dollar-plus upgrades to the south half of the Hanlon are an unconscionable waste of money. The people of Ontario are crying out for better mass transit, yet we continue to let them down by putting the money into our highways.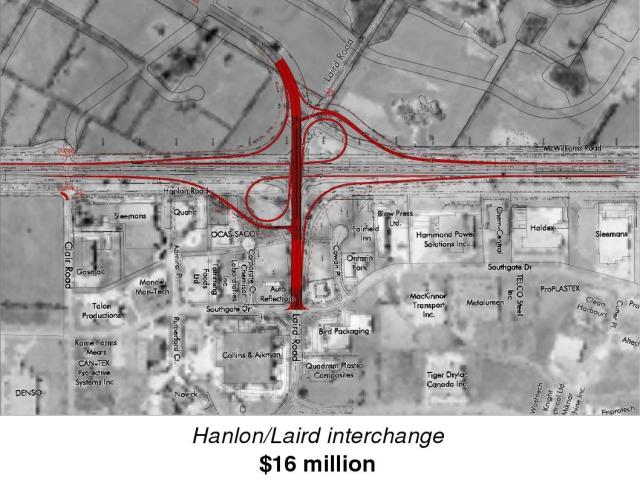 I am not addressing the logistics of which interchanges we are closing and which residential streets we are planning to clog to marginally raise the speed limit for people to bypass Guelph on the Hanlon. No, my concern is the fact that we are doing this upgrade at all.
Mass transit service is in short supply everywhere. GO Transit can hardly keep up with its demand. As fast as it expands, its parking lots and its trains fill. Yet the province is diverting 3.4 billion dollars for new highways across the province, with half a billion dollars for our highways here in and around Guelph, instead of to meaningful mass transit infrastructure. How far would $50 million go given to Guelph Transit? How long will $50 million for 4 new interchanges last before we need to expand the highway to 6 lanes? And then to 8 lanes? And then to add a collector? How much expansion and how many lanes is too much? How much highway can we maintain? It is time to draw the line on highway expansion. We have to call what we have now the limit at which we will pave no further.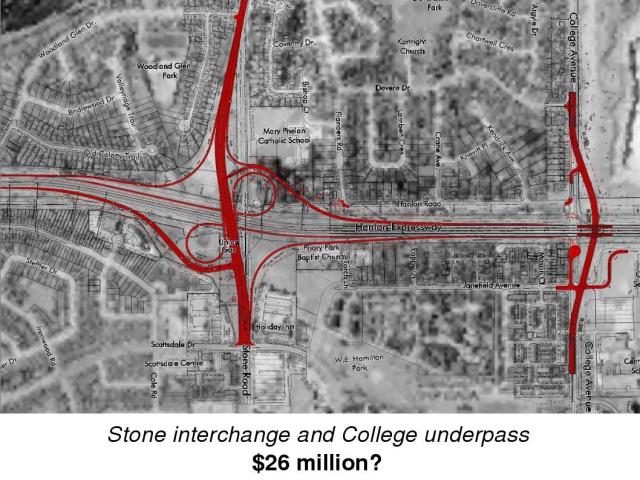 People, by and large, do not want to be in their cars. They use them because our transit alternatives are utterly inadequate. But, because we use cars, we put all our investment money into roads to accommodate them, at the expense of better, more environmental and economical alternatives. Spending money on transit will, quite simply, save money. Transit systems are cheaper to build and maintain than highway networks and use under-capacity railway lines rather than over-capacity highways. Building transit gives drivers an alternative to the highways, one that they are not shy to use.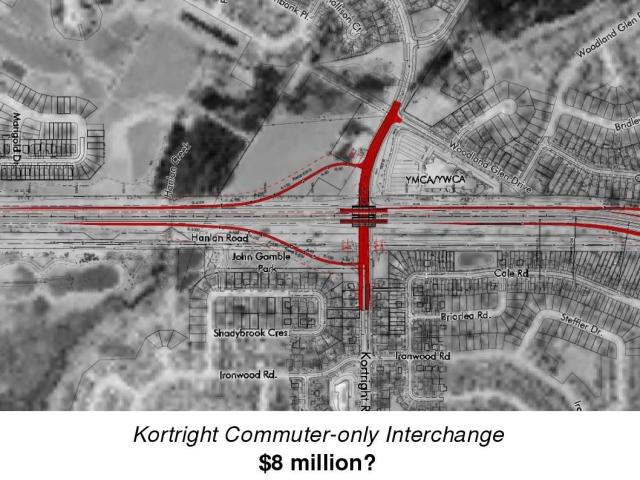 For just a few local examples:
- The new GO Transit Aberfoyle park-and-ride facility is reported to be exceeding all expectations, even though it connects only to a GO Bus;
- The Georgetown line has 4 huge GO park-and-ride stations in the last 13 miles between Georgetown and Bramalea. Two of those four stations already have full overflow parking lots every working day. The newest, Mount Pleasant station, was built only two years ago to accommodate ever-growing demand.
- Barrie introduced GO service in December and it took them only 2 months to fill their 480-car lot. Those are 480 cars in each direction that no longer use the highways every single day. This number is limited only by the lack of further parking at their Barrie station, a clear warning for Guelph as we anticipate the imminent arrival of GO trains ourselves.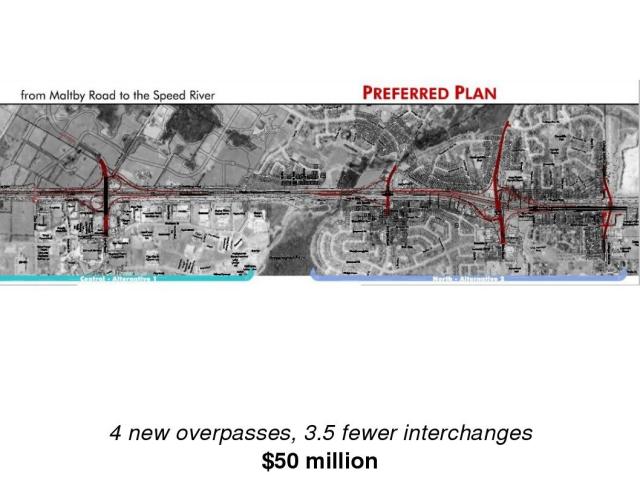 People clearly want our investment to be in mass transit. They are showing it with their actions all over southern Ontario. We are not building our transit infrastructure fast enough even to keep up.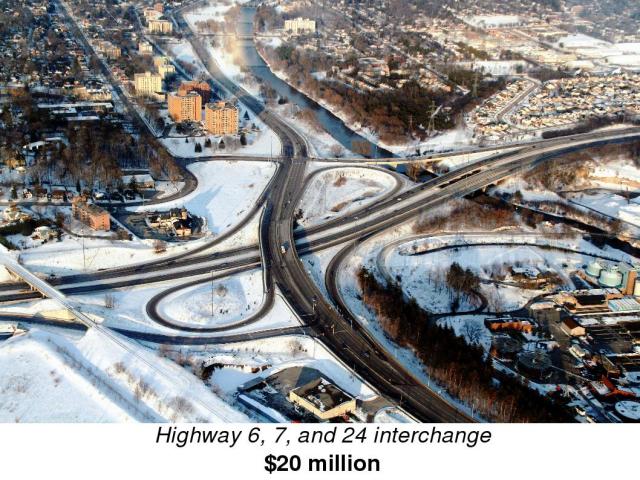 Our priorities are all wrong. Highways are a colossal waste of money. If we put the amount of money we put into our highway systems into our rail systems instead, we would no longer need to upgrade our highways. When we reach adequate rail service, when getting in our cars to go further than the grocery store is as alien a concept to us as getting on a bus is now, that is the time to reexamine our highway capacity. We may well find that what we have is sufficient to handle the remaining traffic that simply cannot go by rail. It is our only way out of the highway construction and urban sprawl death spirals that we are currently enduring.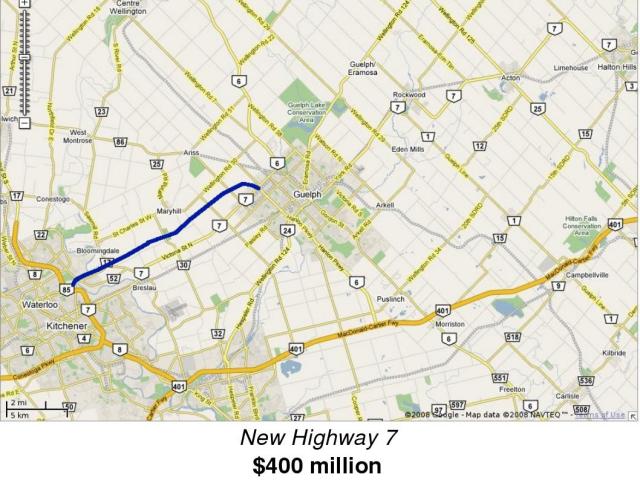 There are approximately 120 thousand people in Guelph. These Hanlon upgrades, for just four interchanges, are estimated to cost approximately $50 million. That is 416 dollars for, or rather from, every man, woman, and child in the City of Guelph. Could we not do just a little bit better for that money?
It is not only for commuters and car drivers that we need to take this into consideration. This project plans to spend 16 million dollars to build an interchange at Laird and Hanlon to accommodate trucks in our new Hanlon Creek Business Park. What would it cost for us to connect that industrial park to the city-owned railway system instead, or at minimum, as well? If we are to consider this, the current plans must be reworked to accommodate railway tracks under, or over, the Hanlon from the Guelph Junction Railway to the east to both the old and the new Hanlon Business Parks which straddle the Hanlon.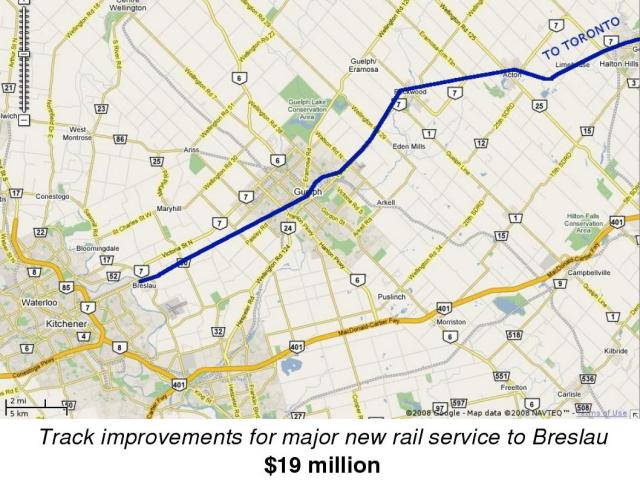 Highways lead to more cars, and cars lead to more highways. It is only too late to correct our plans once the shovels are in the ground. I urge you, the members of this committee, to continue showing leadership in these matters. We need your leadership. Send the MTO packing on the highway 6 upgrades. They are wasteful and they are misguided. This money -- our money, whichever level of government spends it -- would be much better invested in real, viable, new, mass transit systems, diverting traffic from our tension-causing, lung-wrecking, traffic-clogged roads. These billions, invested properly, would give us the best transit system in the world. It is what the people are truly crying out for with their actions, if not with their words.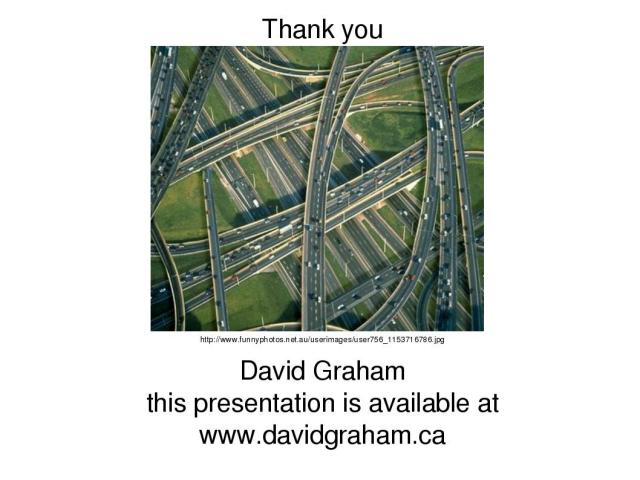 Thank you.
<!headerimage 38 >
Posted at 07:30 on March 07, 2008
This entry has been archived. Comments can no longer be posted.