Guelph city council presentation on the former Lafarge Lands planning application
This is the text and slides of the presentation I plan to make tonight to Guelph City Council regarding the former Lafarge lands of which I have written about before. I will update this post when I get home. It promises to be a late night - I am second of at least 22 delegations presenting. You can watch the whole meeting live, here or on cable channel 20 in Guelph.
Madam mayor, members of council,
A brief history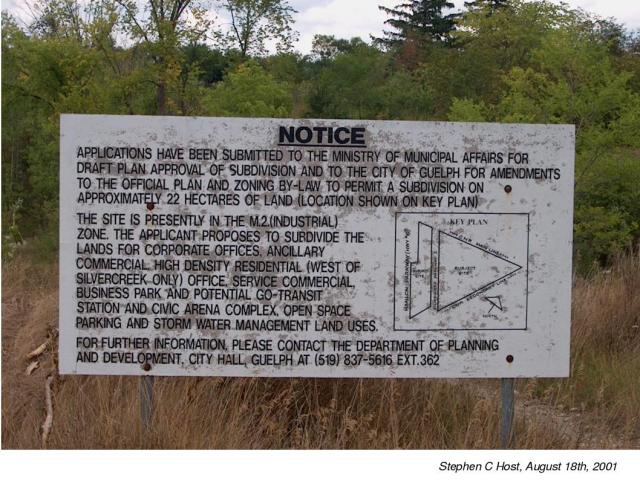 It seems, once again, history is repeating itself.
On January 15th, 1990, the federal government gutted passenger service in Canada, cutting Via service by 55%. Via service in Guelph was reduced from 10 trains a day to just 4. Three years later, in 1993, the cash strapped provincial government cancelled GO train service to Barrie and to Guelph. Around that time, the former Lafarge property was the subject of a development application. Later, in 2001, a friend of mine snapped this photograph of their application notice on that property.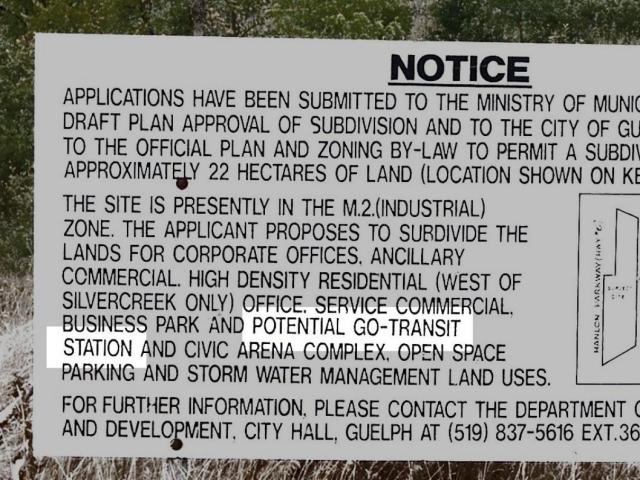 It reads, in part:
"... The applicant proposes to subdivide the lands for corporate offices, ancillary commercial, high density residential office, service commercial, business park, and potential GO-Transit station", among other things. These plans eventually quietly died, but times have changed, and now, a new developer wants to work with this plot of land. It is my hope that the community and the developer can work together to address the issues I and the other delegations here tonight will address.
Intro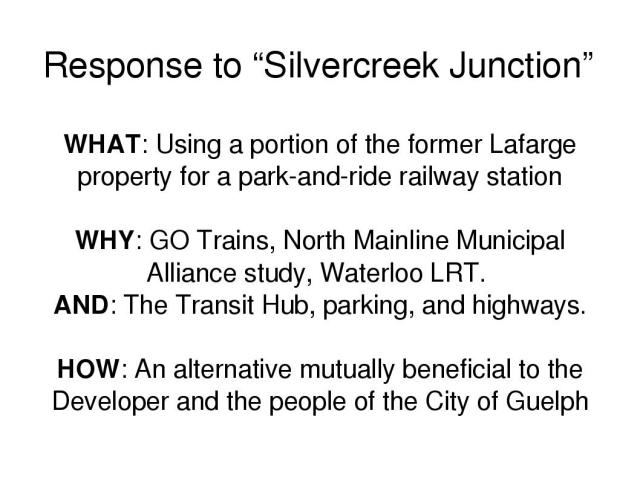 I want to talk to you today about a few key considerations when debating the application before you. Primarily, I wish to express my hope that a portion of the former Lafarge property can be set aside for a park-and-ride train station, a theme that transcends all aspects of my presentation. Coupled with the looming transit hub, no commuter and no traveller will be left behind as GO trains, Budd cars (self-propelled passenger coaches), and Light Rail Transit systems slowly begin to dominate our regional transit network, the arrival of which I will briefly touch on. I plan to suggest alternatives to the current development proposal that will be beneficial to both Guelph and the developers of this land.
The point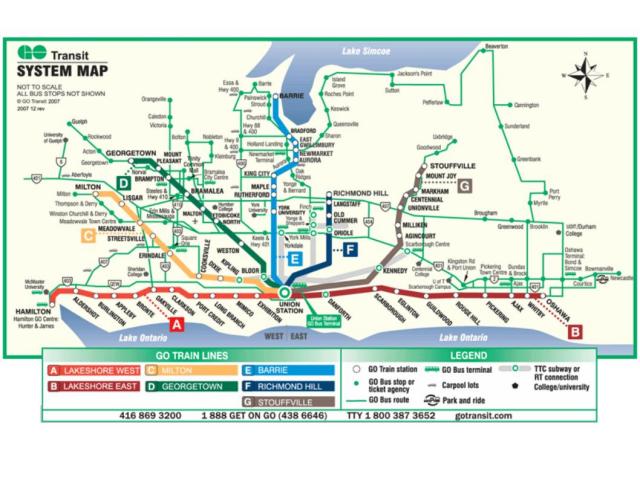 GO Transit restored GO train service to Barrie in December of 2007 after a 14-year hiatus, providing 4 trains each way for what GO anticipated to be 150 passengers. On its first day of operations, 280 cars were counted by local residents in the GO station parking lot. Just prior to that event, GO Transit's board of directors voted in favour of starting an Environmental Assessment to return GO train service to Guelph and beyond. The province, meanwhile, is changing the rules on Environmental Assessments for transit projects to cap them at 6 months, expected to be law by June, meaning we could have GO service to Guelph very soon.
Seen here in a photo we took just one week ago, the former Lafarge property, ironically called Silvercreek Junction by a developer that, for the moment, sees the rail lines as a liability rather than as an asset, exists next to the junction of 3 highways - 6, 24, and 7 - and 2 railway lines - the North Mainline, connecting Toronto to London via Georgetown, and a branchline connecting Guelph to Cambridge.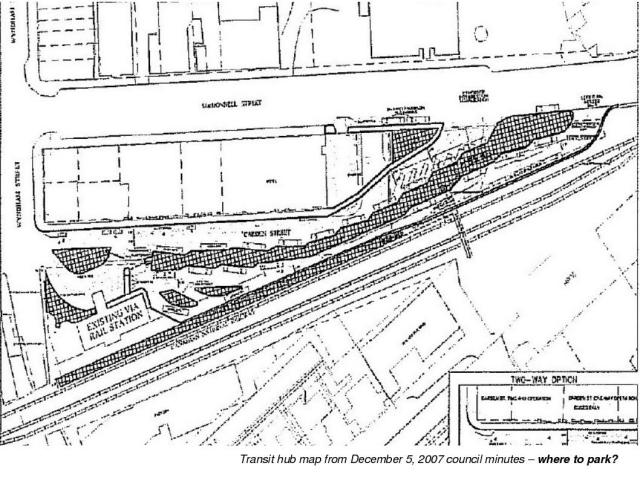 With Guelph proposing to turn the Via and Greyhound stations downtown into a multi-modal transit hub -- next year -- commuter train passenger parking will be reduced from the approximately 50 parking spots that now exist in Via's ever-overflowing lot for the one rush hour Via train we have, to zero parking spaces. A transit hub with no available parking will have a very limited effect on the majority of our suburban commuters. The former Lafarge property, a 22 hectare piece of land at this prime, accessible location, will be required for Guelph's much-needed park-and-ride railway station.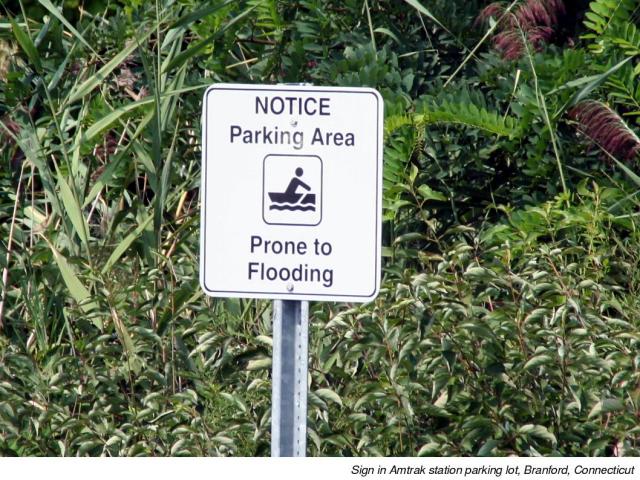 The developer's proposal for a park between the creek and the rail junction is sensible - there isn't a whole lot else that can be done with that particular plot of land, if it is set aside as a flood plain.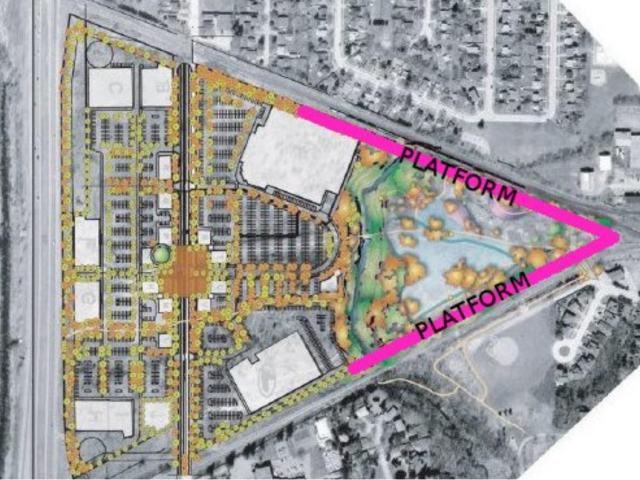 I would, however, request that an allowance be made for a platform capable of accommodating a 12-car GO train along the tracks on the north side of the property. Room should also be left for a smaller platform connected to it along the track on the south side of the land. Both platforms should be planned to be two-track platforms. The access between the two tracks on each platform could also potentially solve the problem of park users safely crossing the tracks.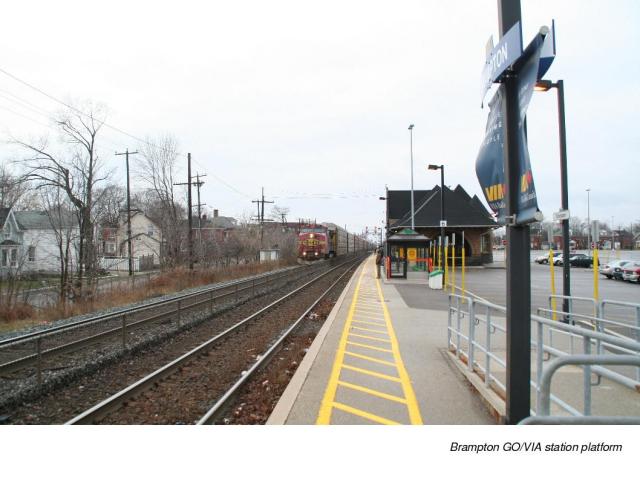 My real concern is quite simple. If we do not save a portion of the Lafarge lands for a GO station, Guelph will either be deprived of a park-and-ride station altogether, forcing drivers to travel either to Acton or Breslau to board the commuter trains, or more likely to just hop on the 401 and go to work by car, or one will be built at an inconvenient or highly unpopular location.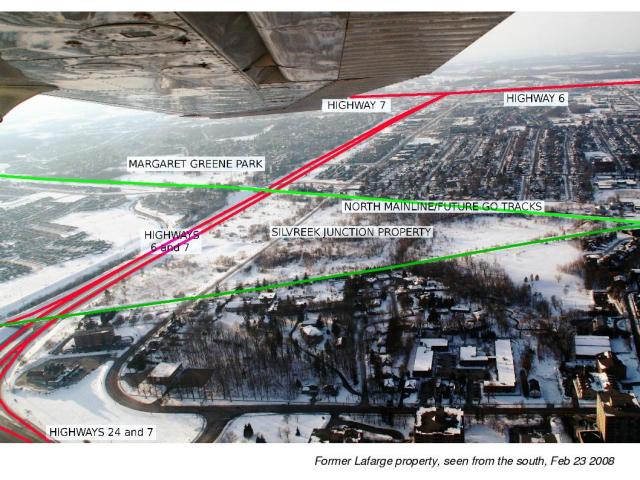 A quick look at a map shows one other location large enough for a substantial parking lot that is near both the three highways and the North Mainline within the City of Guelph, but I am quite certain there would be a revolution if Margaret Greene Park were to be converted into Margaret Greene Parking Lot. It would be a tragedy to flatten and pave a greenfield when a brownfield had been available.
Alternatives such as the West End Recreactional Centre are neither close to highways, nor home to anywhere near sufficient parking for a commuter train station, with just 300 parking spaces available. Other options would likely involve building a station in the area between Watson Road and Jones Baseline, diverting all the Hanlon GO commuter traffic through downtown, and out the east end of the city, a trek that would likely keep a good number of commuters merrily travelling the 401. It is these drivers heading for the 401 to whom we need to give a reason to turn around and take the train.
Other transit considerations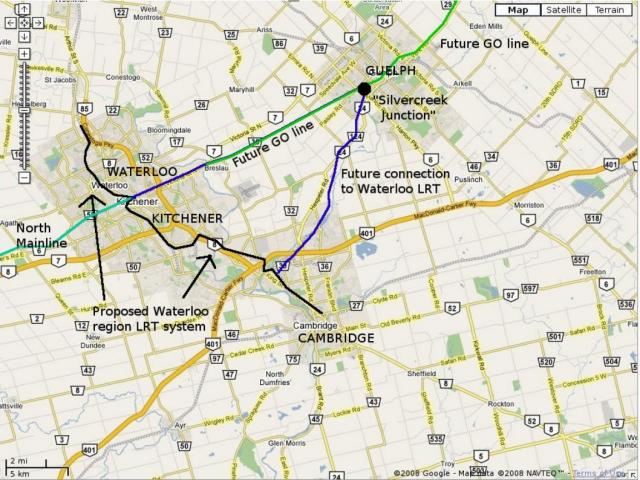 It is important to note two other developments in rail transit in our immediate area. The first is Waterloo region's push for an internal Light Rail Transit line, which I recently suggested we lobby for Guelph to connect to. The second is the North Mainline Municipal Alliance's 2006 business case study showing the economics of building inter-city rail service using self-propelled Budd cars along the North Mainline. The park-and-ride station I am proposing would be a valuable asset for that inter-city service for the same reason as it would be important to GO service. Parking would be available, and people travelling in all directions, not only toward Toronto, would be able to make use of such a station.
The construction of such a railway station in no way precludes Silvercreek Guelph Developments Limited, or any other developer, from developing this land. A park-and-ride station would require only a portion of it.
Places to Grow and Alternative Plans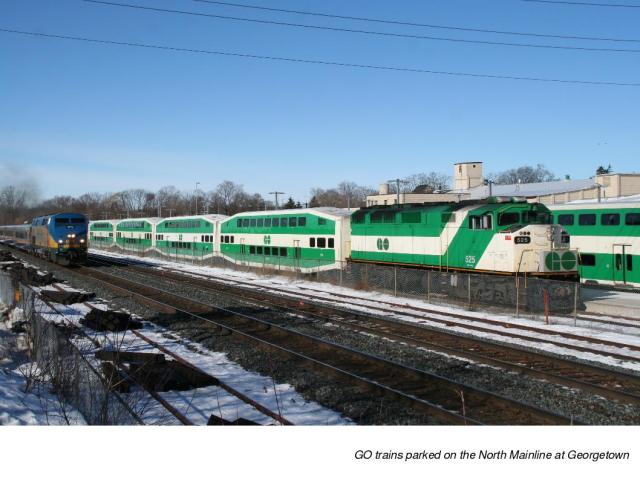 Nobody should expect the developers of this property to make any concessions out of the kindness of their hearts. In order to change their minds and their plans, they have to be shown something that is better for them as well as for the community.
The province's Places to Grow legislation demands that we increase our population to nearly unsustainable levels with intensified residential development. Targeting the Lafarge property for high-rise condos marketed primarily to commuters who want to walk to work in other cities from Guelph via the train would be both lucrative for the developers and beneficial to the community.
These commuters are coming to Guelph regardless. Giving them a place to live where they can exit the city every morning without compounding our traffic problems, rather than pushing them to ever further suburbs, would strike me as being at least somewhat intuitive, and also lends well to the much touted principle of a walkable community. To that end, a commercial strip could also be built as part of the development to accommodate every commuter's dream: a coffee shop between home and the train station, perhaps under an oak tree.
Conclusion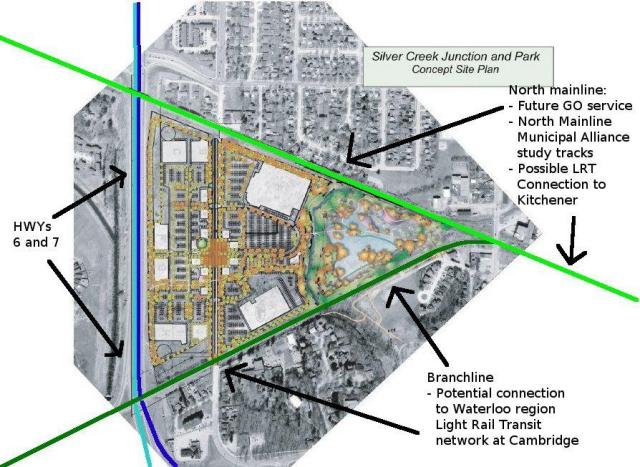 We are the ones on the ground here in Guelph, and we must prepare the groundwork for the arrival of our transit future. It is imperative that we take the initiative and take advantage of the transit expansion around us to help Guelph become a better connected city of the future. As clearly seen on this plan proposed by the developer, with the North Mainline bordering along the length of the property on the north side, and a secondary railway line along the length of the property on the south side, we have a significant opportunity here and now to make these needed preparations. I trust you as members of council, the stewards of our community, to continue working toward this goal.
At the end of the day, GO trains will be passing this property, and we will not be able to stick out our thumbs to ask for a ride. I strongly recommend that the current planning application for "Silvercreek Junction" be improved prior to its acceptance by the City to accommodate this reality. The developers have shown some interest in doing what is right with their effort to create a market square and to save the property's large oak tree, and I look forward to the improvements they will make based on what they are hearing here tonight.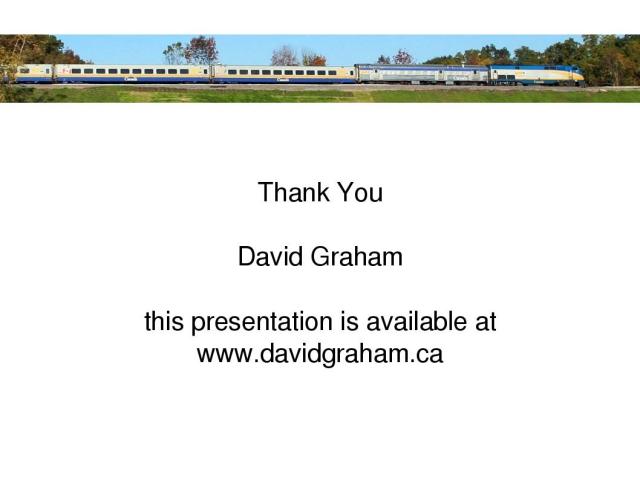 Thank you.
<!headerimage 41 >
Posted at 17:00 on March 03, 2008
This entry has been archived. Comments can no longer be posted.