Guelph official plan city council presentation
Tonight, my wife and I presented to Guelph City Council in its chambers on the topic of Guelph's official plan. This is the text of my speech interlaced with the powerpoint slides.
For reference, this was my first speech since my Bar Mitzvah in 1994!
Madam mayor, members of council,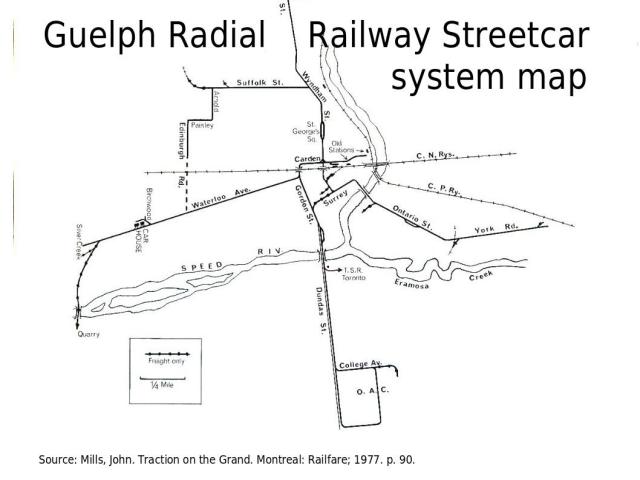 I would like to take you back for a moment to September 17th, 1895, the day the Guelph Radial Railway introduced 20 minute streetcar service to the city, based out of its main station on Carden St., where it connected to the Grand Trunk Western's and the Canadian Pacific's passenger services at what one might call a Transit Hub. This is a map of its service which ended in the early 1930s. We are almost back to this level of service.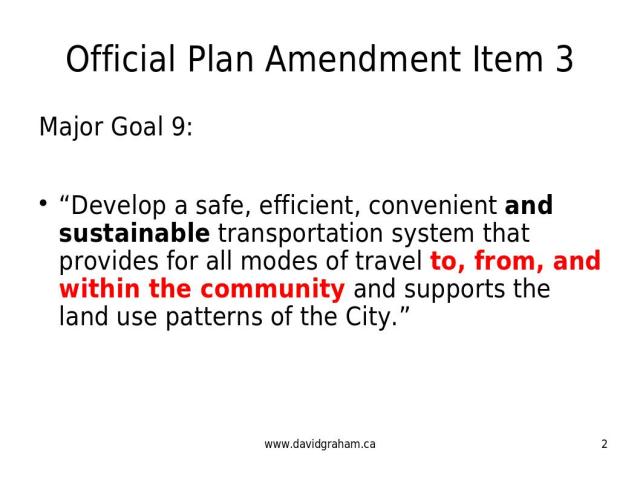 I come to you as a private citizen in support of the changes to major goal number 9 of the Official Plan, and to express my concern about the future of transit in Guelph specifically, and in Canada more generally. Ours may be the only country left on the planet still ripping out more railway tracks than we are putting in. What you do with this information will affect all of us for years to come.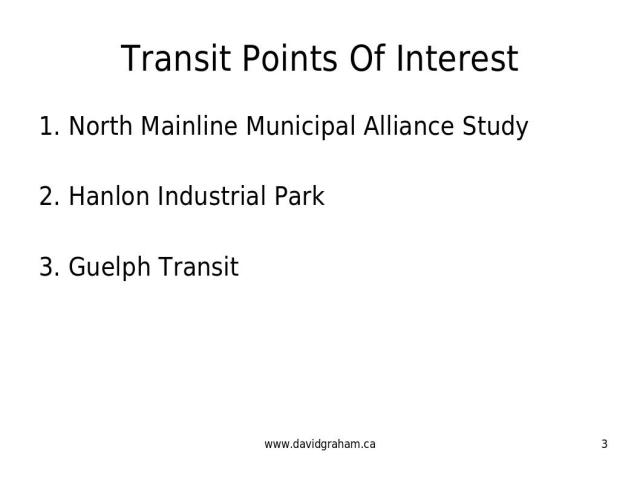 There are three major points I wish to express in relation to the new Official Plan. Firstly, I will draw your attention to the North Mainline Municipal Alliance study of 2006. Secondly, I would like to address a fundamental improvement that I would like to see in the creation of the new Hanlon Industrial park. Thirdly, I would like to propose some ideas for the future of Guelph Transit. From there, I will summarise what I have said and offer you some simple recommendations.
North Mainline Municipal Alliance: Business Case for Improved Rail Passenger Service - item 76k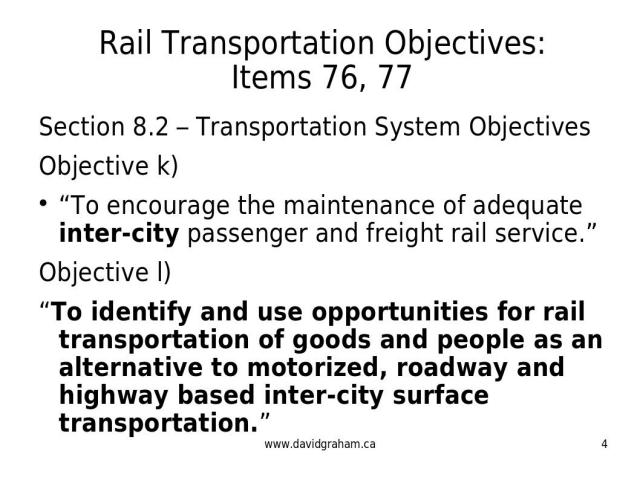 First and foremost, per item 76(k) of the amendment to our official plan, I plead with you not to forget about the North Mainline Municipal Alliance's study, presented to city council on July 17th, 2006 and not acknowledged in the amendments. The short version of this study is that, for the estimated 50 million dollar cost of the Clair Rd to College Hanlon "upgrades", we would have more extensive passenger train service in both directions connecting us to London and Georgetown and beyond.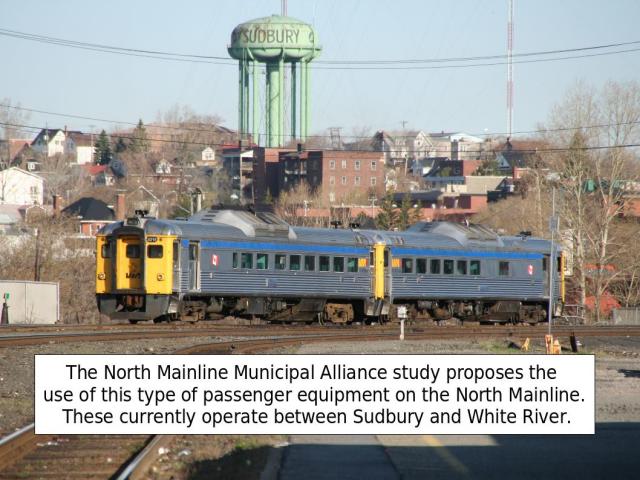 At a cost of some 58 million dollars, spread over three stages, the groundwork can be laid for self-propelled passenger coaches, currently awaiting purchase in New Brunswick, to operate here. This would substantially improve Guelph's inter-regional transit conditions. Please make the implementation of its recommendations of the highest priority.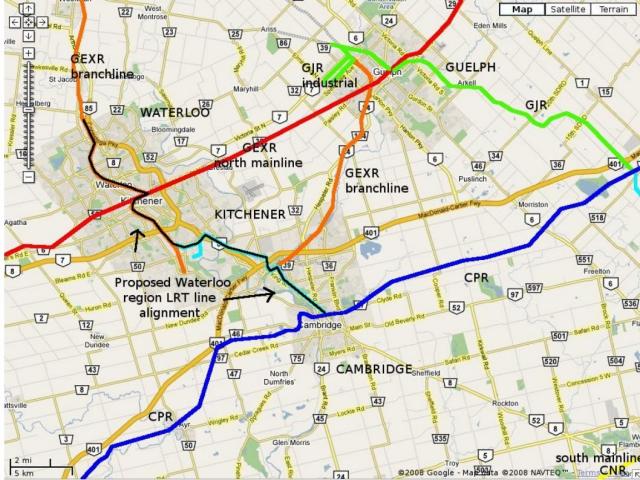 Waterloo Region is currently lobbying hard for the creation of an internal Light Rail Transit system, shown in black, Guelph should be lobbying just as hard to be connected to that system along the two different railway lines that directly connect Guelph to Waterloo's proposed LRT tracks. These tracks already exist as active freight lines.
The recently re-announced study for a Windsor-to-Quebec City high speed rail corridor will not come anywhere near Guelph, but it will become a major corridor to which we risk having no access. It will almost certainly use the established right of way from Toronto to London via Hamilton and Brantford along the 403. It will be our responsibility to ensure that we have access to this high speed corridor. Guelph risks being among the furthest points from this corridor of any major south-western Ontario city.
As the official plan moves forward into the age of true environmental awareness, Guelph has to consider options to assist in getting drivers off our roads, because the options for not driving will be, for the first time in generations, better than the options for driving. The North Mainline Municipal Alliance's study and Waterloo region's LRT proposal have the potential to go a long way to help.
Hanlon Industrial Park - items 77l and 105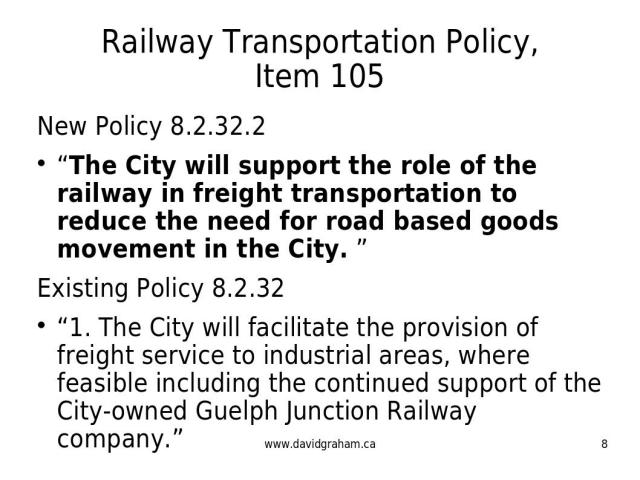 My second point is in reference to the ill-planned new Hanlon industrial park. I call your attention to item number 105 of the amendment relating to our support of the role of rail in moving our freight.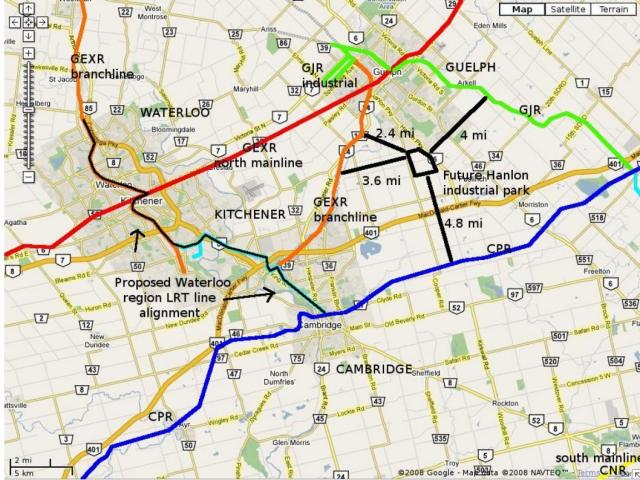 I have no objection to new industry coming to Guelph, but I have a big problem with building an industrial park within just 5 miles of not one, not two, but THREE different railway freight lines, as shown on this map, without so much as an industrial spur to coax businesses out of their massively subsidised trucks. One of these three railways, and perhaps the easiest one to connect to the park, is owned by the City of Guelph. The Guelph Junction Railway would allow more rail-using industry to move into Guelph in this new industrial park, reduce the number of trucks, and directly feed the revenue from the transportation of goods back into city coffers.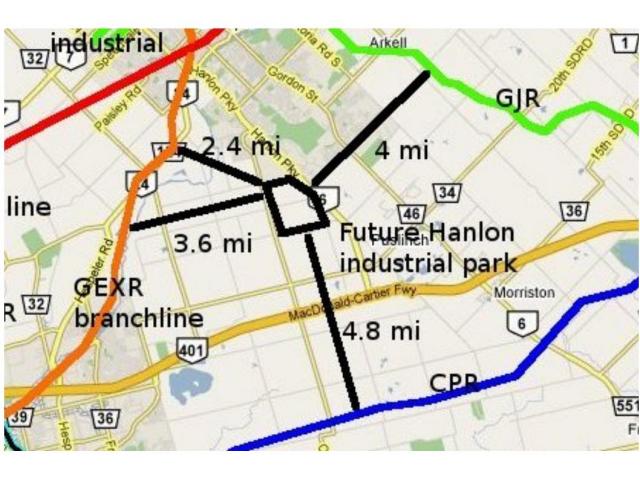 Building a new major industrial park under 5 miles from the Guelph Junction Railway to the east, Goderich-Exeter Railway to the north and west, and Canadian Pacific Railway to the south, without any rail service is simply irresponsible and should be remedied in the official plan.
It is also important to note that the possibility of adding rail service to the Hanlon industrial park, which will be on the west side of the Hanlon, will be severely endangered by the construction of the new Clair/Laird/Hanlon interchange if provisions are not made in that interchange to allow for a railway line to pass under or over the Hanlon. That industrial park with rail service would be meat for a facility like the long-rumoured Guelph food terminal or a new auto manufacturer as mused about in last Monday's Mercury editorial. Without it, we are saying that only truck-using industries are welcome in Guelph, and that the 401, not our railways, is our greatest transit asset.
Funding Guelph Parking through Guelph Transit - item 87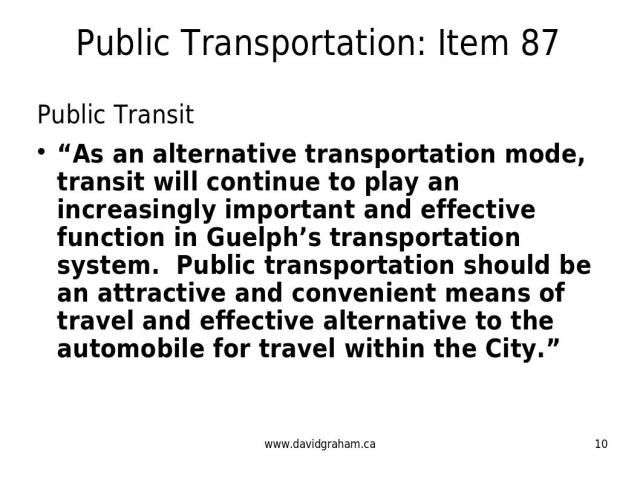 Thirdly, we must better fund Guelph Transit, per item 87. All the rail service in the world will be meaningless if residents do not have an efficient way of getting to it.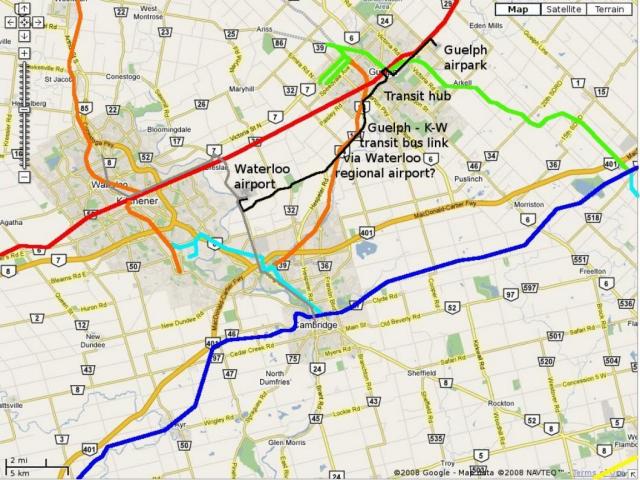 Efforts should also be pursued to connect Guelph Transit to Grand River Transit, perhaps by creating an interchange between the two at Waterloo regional airport in Breslau, with an airport-downtown-airport express on our end, and a downtown-airport-downtown express on theirs. This would allow people to easily get to our regional airports from any of Guelph, Kitchener, Cambridge, and Waterloo via their downtowns or from the train stations at Guelph or Kitchener, and to allow people to connect there to get between any of these locations.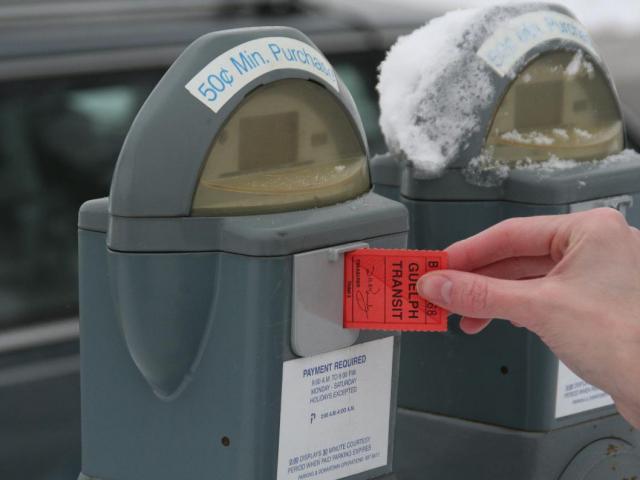 For Guelph Transit, perhaps a counter-intuitive solution to its funding, and to another problem currently facing Guelph, is to charge the equivalent of bus fare to park at any parking meter in the city, perhaps even some day at any business in the city with over, say, 100 parking spaces. This would serve to divert all parking metre revenue in the city directly to Guelph Transit, while sending a message to those parking that it will cost them a bus ticket whether or not they use the bus.
While the current pilot project to provide free two-hour parking downtown is good for local business in the short term, its high cost, and its effect of encouraging cars in the city is in direct conflict with the official plan. Left in place, over time, and coupled with our rising transit fares, Guelph will effectively be asking transit riders to fund downtown parking.
Rationale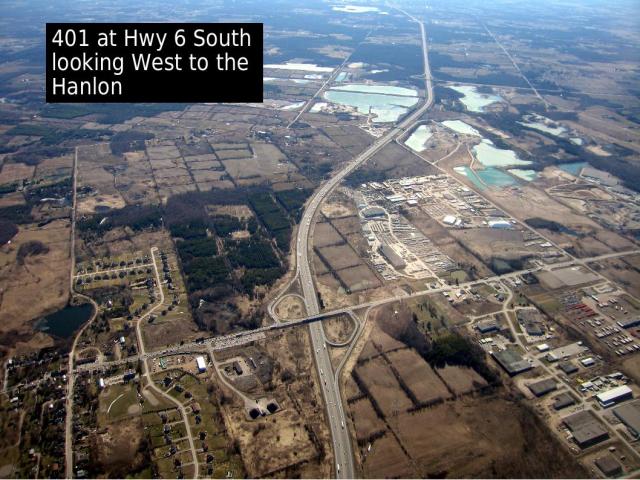 Ultimately, highways lead to more cars, and cars lead to more highways. By contrast, trains can simply be made longer. With every coach on a GO train seating 150 passengers, plus standing room, each GO train can remove as many as 2000 cars from the road.
Industrial parks lead to more trucks, and trucks too, lead to more highways. This, too, can be alleviated with the sensible use of our once mighty rail system.
Whether cars and trucks are still king in 50 years is not so much about how much oil we have as it is about how much leadership we have. Road vehicles will always be with us. Whether we drive them all ourselves, at low speed complaining endlessly about the high price of the era's fuel and the endless congestion, or we see traffic largely restricted to emergency vehicles, local deliveries, and transit services is entirely dependent on what decisions we make today.
As a driver, paving over the entire province of Ontario so I can drive anywhere in a straight line has its appeal, but as a thinker, I see that endless road construction has to stop. The 401 is about to be widened to 8, and within 5 years up to 10 lanes from Kitchener to Cambridge. At what point do we say it is simply too many? We have to consider options that will serve to assist in getting drivers off our roads by making the options for not driving better than the options for driving.
Conclusion
I will conclude by saying that I feel comfortable making these points to this city council as I feel we have the leadership here in this room to take these matters forward.
I ask you not to forget about rail and the North Mainline Municipal Alliance study when finalising Guelph's official plan. I ask you to work to see how Guelph can connect to Waterloo's proposed LRT system. Rail costs nothing compared to highways and is far and away the most environmental and economical solution to both our passenger and freight needs. It is also important to fund Guelph Transit to the highest level possible. Inter-regional, regional, and local transit, function best as one integrated package.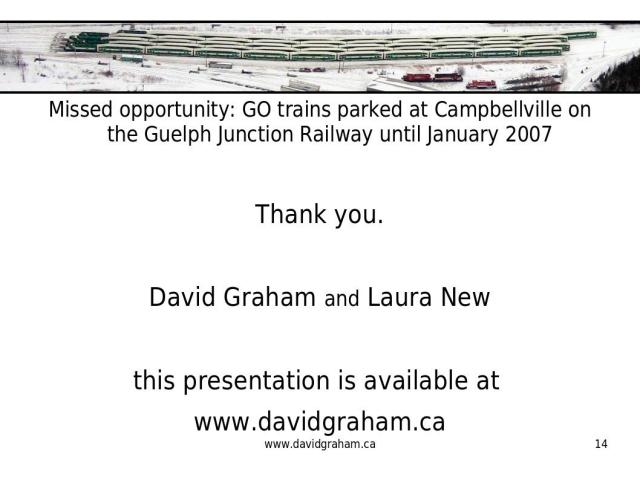 I look forward to the results of your deliberations.
Thank you.
<!headerimage 41 >
Posted at 19:57 on February 04, 2008
This entry has been archived. Comments can no longer be posted.