Guelph's former LaFarge property an opportunity not to be wasted
My first article as a member of the Guelph Mercury Community Editorial Board is up, addressing one of the biggest immediate issues I see facing Guelph: hopeless intercity transit. Here it is, with the photo I submitted with the article.
Also, see Guelph's file concerning the LaFarge property.
Landing on a commuter train solution
Silvercreek property offers the city a unique transit opportunity that shouldn't be wasted
When it comes to transit, Guelph is an island.
The city has long discussed turning the existing downtown train and bus terminals into a unified transit hub. This is an excellent idea. It allows intercity buses, GO trains, Via trains, and city transit to converge on one point. But the transit hub is missing two important elements.
First, there are very few trains that connect to the transit hub -- just three each way per day, with only one at rush hour. Second, there will be no parking available, making it nearly useless to both commuters and travellers from surrounding communities.
GO trains currently run as far as Georgetown on a busy Canadian National Railway freight line, which is undergoing significant upgrades at the moment, specifically to expand GO train service to meet very high demand along the Georgetown corridor.
There is little stopping GO trains from running the rest of the way to Kitchener, via Guelph, on the far quieter Goderich-Exeter Railway, the North Main Line, which stretches from a junction in Georgetown through Guelph, Kitchener and Stratford, into London.
Shortly before last fall's provincial election, GO Transit announced an Environmental Assessment for the track upgrades necessary to make GO trains in Guelph a reality. I anticipate that not long before the 2011 provincial election, the environmental assessment will be complete and a contract will be tendered to perform any needed upgrades. Just before the 2015 election, I expect, GO trains will run the line for the first time since 1993, to much fanfare.
Most GO lines include two stops per city. The Georgetown GO line, which extended to Guelph until its service was cancelled by the NDP in 1993, has two stops for Georgetown, two for Brampton, and so forth. Guelph should be no different.
A GO train originating at the Kitchener Via station to connect with Grand River Transit would stop again at a park-and-ride station in Breslau.
The train would continue, stopping once again at Guelph's currently hypothetical highway-connected park-and-ride station to connect to cars and again at Guelph's transit hub to connect to city and intercity buses. Which leads us to the second problem: no parking.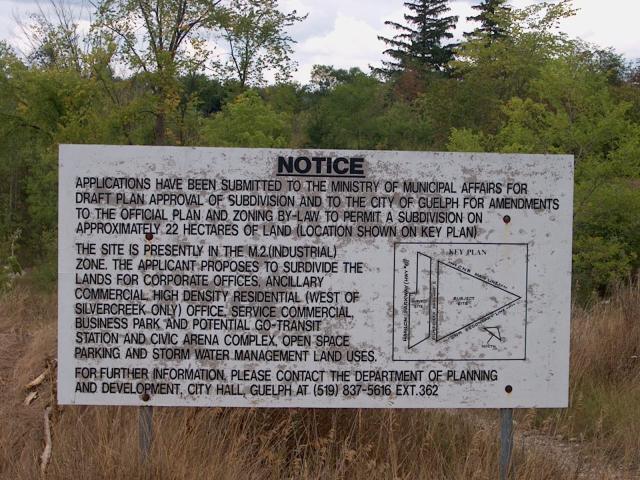 This property has long been seen as the best place for a park-and-ride station in the city. This 2001 photo shows an already very old planning application notice suggesting this very usage. Photo: Stephen C. Host 2001
Arguably the most controversial property in Guelph today is the large triangular tract of land on Silvercreek south of Paisley, known colloquially as the former Lafarge property, owned by Silvercreek Guelph Developments Ltd.
This 22-hectare tract of land represents the future of our transportation infrastructure, but there is a process currently before the Ontario Municipal Board to turn it into a large commercial development.
This piece of land, strategically located between Highway 6, Highway 7, Highway 24, and both the Goderich-Exeter Railway's Georgetown-London and Guelph-Cambridge railway lines, is the best opportunity Guelph has for a home base for commuter train service.
Aside from being centrally located for a park-and-ride station for GO trains coming to Guelph, it would be well-positioned to serve at the same time as a station connecting Guelph to Kitchener-Waterloo and Cambridge when a Light Rail Transit system is inevitably installed -- Waterloo recently put its proposed regional Light Rail Transit at the top of its transit expansion plans.
Using the former Lafarge property in this manner would increase its value to the community as well as to the developers, giving it the potential to become a high-density residential development with parkland.
If we do not act soon, the property will be built up, eliminating the best opportunity we have for this much-needed facility. Without this property, Guelph, facing rapid centralized growth under Places to Grow, will not have a good location for its critical park-and-ride commuter train station.
The community will search for a site, realizing that there is only one other option that would allow people to come off the highways and go into a parking lot with minimal interference to a residential area, and minimal property expropriation to put it in place.
Pressure will grow on Margaret Greene Park, the only other open plot of land near both tracks and highways with the potential to become this all-important facility, once again developing greenfields when brownfields had been available, and failing to provide access to the eventual Guelph-Cambridge line.
As our city grows by leaps and bounds, we will need to consider how best to make use of this potential. We must prepare the groundwork for our transit future, which will come whether we are ready for it or not.
We must save the former Lafarge property for this major station, or we risk remaining an island separated from the future mass-transit system.
<!headerimage 19 >
Posted at 08:00 on January 20, 2008
This entry has been archived. Comments can no longer be posted.