Guelph's Imico property -- our other major transit opportunity
Guelph's long-defunct Imico plant, a brownfield flattened decades ago, centrally located between Victoria, Elizabeth, Stevenson, and York in Guelph's east end along the city-owned Guelph Junction Railway, represents Guelph's third major rail transit opportunity after the Carden St. Transit Hub and the Silvercreek Junction Park-and-Ride.
The return of Guelph's Carden St. Transit Hub just a year away is, of course, our first transit opportunity. Guelph is about to have a place where city bus, inter-city bus, and train riders can interchange quickly and easily. It is centrally located just west of the junction of two railway lines, right near the downtown core. Indeed, all it really lacks is free, readily available parking and direct highway access for the many people who cannot -- yet -- be coaxed out of their cars. This technicality leads us directly to the second and third opportunities.
The second opportunity is, of course, the former Lafarge property, dubbed Silvercreek Junction by its current owners. This land's critical role as a future inter-regional rail transit parking hub cannot be overstated. Next to the junction of two of Guelph's three railway lines, one of which continues on to the Carden St. Transit Hub, the other of which continues to Cambridge to connect to the future Waterloo Region Light Rail Transit network, and highways 6, 7, and 24, this huge plot of undeveloped brownfield land is the ideal location for Guelph-Kitchener-London, Guelph-Cambridge, and Guelph-Georgetown-Brampton-Toronto inter-city commuter parking. A $16 million 500-spot parking garage in the downtown core, as is proposed for Wilson St. at the west end of Carden, would not come remotely close to satisfying the parking demand that such a rail hub would need, and any such use of that parking garage would in any event negate the benefit its construction would have to our own downtown as the parking spaces would be used by outbound commuters. The second opportunity of the Lafarge property is as critical as it is urgent, as the lands are currently the subject of an OMB procedure to turn it into a big box store rather than the commuter hub we so very much need.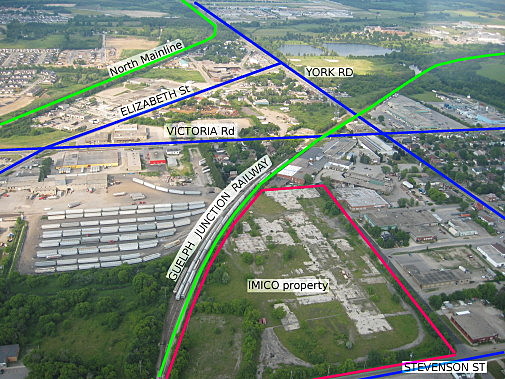 The Imico park-and-ride is the third opportunity. It is one that I have not written about for
quite some time
, but it has nevertheless been on my mind. It was brought home by my
mechanic
telling me yesterday that I need to write my next article about bringing GO service to the Guelph Junction Railway. While the idea has some merit and could have been done a generation ago with a little political will -- I'll come back to that in a moment -- it is not exactly what I have in mind for that line's passenger service, but, forgive the pun, it is on the right track.
The Imico property is arguably Guelph's third most controversial piece of land, after the former Lafarge lands and the Jail lands. The land needs cleaning up before it can be used for any kind of structure or community park. Paving over the property, while not an inherently pleasant sounding idea, could on the other hand be the greenest, best thing we could do for it and the city as a whole. Using it as a parking lot to get cars off the road and their occupants into mass transit is in (nearly) everyone's interest.
The Imico land, which borders the city-owned Guelph Junction Railway, could easily be used to return north-south passenger train service to Guelph, whether it be an extension of the Milton line to Guelph or, my preference, a north-south service from Guelph to downtown Hamilton with a connection to the GO Milton line at Guelph Junction and to the GO Lakeshore Line at Hamilton. Extending the Milton line to Guelph on this track has a serious drawback worth mentioning in that it would deprive Cambridge of sorely needed GO train service potential, while connecting Guelph to Hamilton would give us the best of both worlds by giving Guelph commuters access to all three routes into Toronto and its various suburban employment regions. It would also give commuters from all parts of the Toronto region reasonably simple access to commute to Guelph by rail, a current impossibility.
As is the case for the Lafarge property, there is no reasonable parking at the Carden St. Transit Hub available for this line. However, this line does go through the Transit Hub at its eastern extremity, passing directly under the east-west mainline attached to which the Transit Hub is to be built only a few hundred feet away. The construction of a platform from McDonnell to the River Run Centre with a stairwell up to the nearby main Carden St. Transit Hub's platform would allow easy integration of this line into the Transit Hub and Guelph's overall inter-regional mass transit strategy.
For a little recent history of service on this line, up until January of 2007, GO trains - 5 of them, from the GO Milton line - parked at the south end of the Guelph Junction Railway, which, as mentioned, borders the Imico property and the Carden St. Transit hub. The GO trains parked at Guelph Junction, the site for which the city-owned Guelph Junction Railway is named just west of Campbellville, from 1981 until 2007. They ran there empty, with no passengers, from Milton for those 26 years stopping at the base of the city's own tracks and not continuing the rest of the way up to Guelph, nor either along the Canadian Pacific tracks to Cambridge, which has been calling for GO train service for that entire time.
The tracks themselves continue on, as Canadian Pacific Railway tracks, from Guelph Junction through Hamilton and, incidentally, all the way to Buffalo, New York. Connecting passenger train service from Guelph's Carden St. Transit Hub all the way to downtown Hamilton, connecting to the future GO line through Guelph, currently terminating at nearby Georgetown, at the Transit Hub, the future Cambridge GO line, which currently terminates in Milton, at Guelph Junction, once a busy passenger junction for exactly this purpose, and connecting to the existing, very well-serviced Lakeshore GO line which terminates in downtown Hamilton. The Imico property provides an unmatched opportunity for parking within the city for users of this service on a piece of land that is otherwise of limited use and maximal controversy.
We know that the future is rail. We are getting the Carden St. Transit Hub, an important first step in preparing for our transit future, but it is important that the Lafarge and Imico sites be preserved for their park-and-ride potential. Getting people out of their cars and into public transit has to be done in stages, and giving transit users a place to park will help drive us off the road.
<!headerimage 41 >
Posted at 08:41 on March 25, 2008
This entry has been archived. Comments can no longer be posted.